Basically, the Compact VCI (CVCI) purchased in one package and the trigger module have the same last 5 digit serial number of the product serial, both of which are sold with a default pairing set. Even if you do not proceed with pairing, it is possible to connect automatically when the power is on.
If you do not have a default pairing, or if you want to use a device with a different serial serial number, you can reset the default pairing as shown below.
Pairing the trigger module with CVCI (Compact VCI) (1: 1)
1) Connect the CVCI to the OBD-II connector and use the pin to push the pairing switch at the bottom of the CVCI module. After that, the unit is ready for pairing, and the green / red lights alternately at 1 Hz. The pairing mode of the CVCI is held for 60 seconds.
<CVCI paring switch>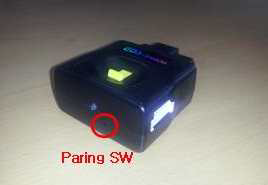 2) Connect the trigger module to the cigar jack of the vehicle and press the Enter key of the trigger module for more than 5 seconds. After the Beep tone, the Enter Key lights up orange (when green / red is on), and the VCI2 LED rapidly turns red. When the target CVCI to be paired is found, CAN1 of VCI1 lights up green. After a 20 second pairing attempt, a beep sounds and the Enter key lights green normally.
<Trigger module LED>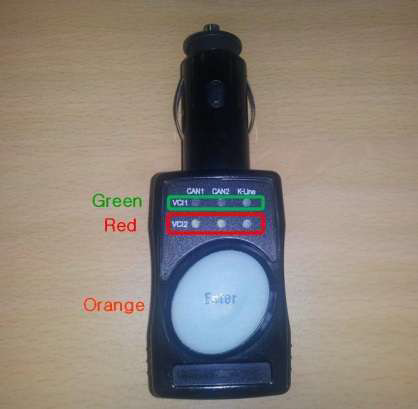 3) If CAN1 does not light green, pairing fails. Repeat steps 1) and 2).
4) After the pairing is complete, remove the CVCI and trigger module from the vehicle and reconnect to verify that the default pairing is normal. When the CVCI is connected to the OBD-II connector and the trigger is connected to the cigar jack, CAN1 CAN2 on the CVCI lights up in green.