Symptom : Login and registration is not possible even though the account is available on GSW(CCC).

Solution :
1) Please check if you are available to login CCC or GSW.
GDS Mobile/ KDS is using CCC(GSW) account.
However, if your password has '&' letter, please change your password.
Sometimes, the '&' letter is not acceptable.
After changing your password on CCC(GSW), it will be applied after an hour to GDS Mobile/KDS.
2) GSW SSO Link.
When you login to CCC web site, please make sure that you are able to link to GSW on SSO Link.
Sometimes, GSW is blocked by HMC.
If it's blocked, GDS Mobile cannot be reach to login server.
3) Time Zone.
Please check that your time zone on the tablet is correct.
You can just set Automatic data and time as enable.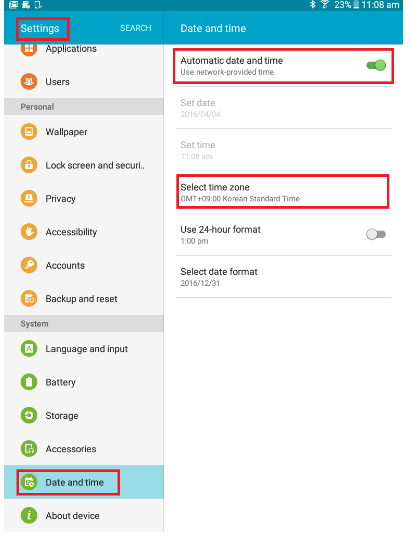 4) SystemConfig
If the problem still occurs, please replace the 'SystemConfig.sqlite' file.
(If you re-install GDS Mobile via PC Manager, GDS Mobile is already latest.
Please ignore this. step)
Please download the attachment, and unzip the file.
And copy&pate it to the path below.
Path : mvci > systemdb > System >SystemConf.sqlite
*There is already same file existed, so you need to replace it.
*End.