Symptom:
I was getting the message, "This app was built for an older version of android and may not work properly." during GDS Mobile/KDS installation.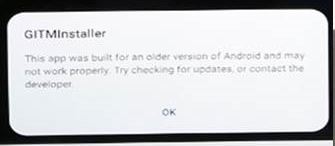 Cause:
This message shows by Android 10 system. It doesn't affect on GDS Mobile/KDS running.
Solution:
Just ignore it and press "OK" button to proceed to install GDS Mobile/KDS.