Symptom 
   When you install Commercial Vehicle GDS Master DVDs on E-H-03-10-00XX or higher, the pop-up notice will appear.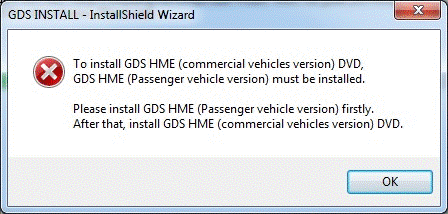 Before you begin
     1. Disable Antivirus program on your laptop PC Manager is installed on. 
     2. If you use security network on your workshop, ask your IT guy to open PC Manager update server on workshop network. If you don't know the PC Manager server URL and port, contact ics@gitauto.com.  
 Solution
    1. Download the zip file(NGSVersion.zip) and unzip it. You can find "NGSVersion.cfg" in the folder.
    2. Go to the path [C: or D:\ gvcidata\data\Config] on GDS laptop. 
    3. Replace "NGSVersion.cfg" in [Config] folder with "NGSVersion.cfg" you downloaded.
    4. Restart the PC.
    5. Install commercial vehicle GDS Update DVDs Step by Step. 
       If you fail, it is required to be checked by remote session with GIT. Please kindly contact us by email(ics@gitauto.com).