Symptom
How to install GDS DVD
Before you begin 
Prepare GDS Master DVDs and Update DVDs as follow.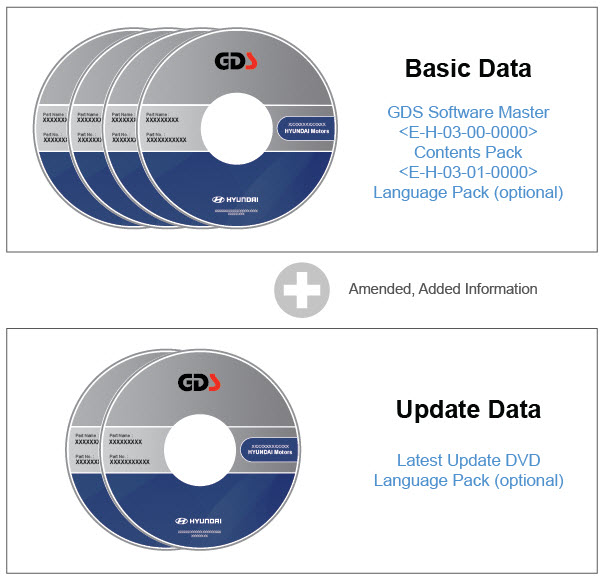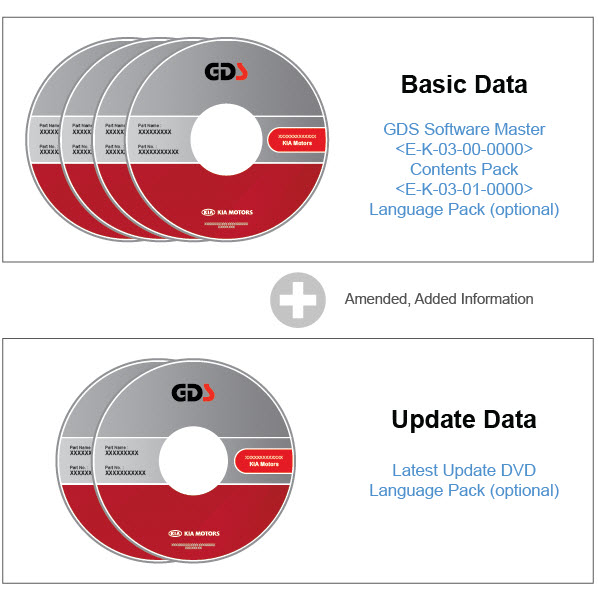 Solution
1. GDS DVD Line-up
GDS DVD consists of Basic Data and Update Data.
Basic Data : Software Master + Contents Pack + Language Pack
Update Data : Update DVD
(Latest Update DVD consists of all data excluding the basic data in the Basic Data (S/W master + Content Pack + Language Pack). Install the latest Update DVD only. The latest Update DVD includes all the previous data in the Update DVD previously released.)
2. GDS DVD Installation sequence.
KIA(KME)
   (1) Software Master (DVD: E-K-03-00-0000)
   (2) Contents Pack (DVD: E-K-03-01-0000)
   (3) Language Pack (Optional DVD: E-K-03-01-0000)
   (4) Latest Software Update DVD (Latest Update DVD: E-K-03-11-0000)
   (5) Latest Contents Update DVD (Latest Update DVD: E-K-03-11-0000)
   (6) Latest Update DVD Language Pack (Optional DVD: E-K-03-11-0000)
Hyundai(HME)
   (1) Software Master (DVD: E-H-03-00-0000)
   (2) Contents Pack (DVD: E-H-03-01-0000)
   (3) Language Pack (Optional DVD: E-H-03-01-0000)
   (4) Latest Software Update DVD (Latest Update DVD: E-H-03-11-0000)
   (5) Latest Contents Update DVD (Latest Update DVD: E-H-03-11-0000)
   (6) Latest Update DVD Language Pack (Optional DVD: E-H-03-11-0000)